What is the cooperation between factcool.com  and CSOMAG PLUSZ network about?
Campaign Type: acquisition-brand campaign
Scope: Slovakia, Czech, Hungary, Poland, Romania
Products: DL Format Discount Coupon (Single side) and Coupon Catalog (Autumn 2020)
Network distribution: 6 weeks
Reach: 1,900,000 packages
Audience: active online buyers – women and men aged 18 – 45 years
Segmentation: Beauty and Lifestyle, Household, Family, Media and Hobby, Technology
Benefits expected from the campaign
New customers acquisition
Increase sales from online
Strengthening knowledge of the brand and market position
Increasing customer loyalty
Campaign interactivity: Voucher code -10% for purchase at factcool.com with validity also for already discounted products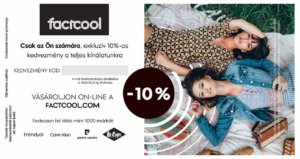 Don't you really know factcool.com?
Factcool.com has been operating in the E-commerce Fashion segment since 2015 and is constantly developing and expanding its operations across Europe. In 18 countries, it offers its clients more than 70,000 pieces of sports and trendy clothing and footwear from various global and local brands. The e-shop is known in Hungary as hu.factcool.com.
Benefit factcool.com for customers
a wide range of more than 1.000 proven brands such as TRENDYOL, PIERRE CARDIN, LEE COOPER, EVERLAST, DENIM and many others
exclusive premium brands EMPORIO ARMANI, CALVIN KLEIN, DIESEL, GANT, GUESS, HUGO BOSS, LACOSTE, TOMMY JEANS
first purchase discount, free shipping promotions or special discount coupons
guarantee of 100% quality and originality of goods
return of goods up to 14 days without giving a reason
B2B cooperation with an individual approach
Factcool.com is a universally focused fashion store with clothes, shoes and fashion accessories for women, men, and children. In addition to the "classic" product presentation, it also adapts its product range to customers according to the type of popular sport, such as: Running, Football, Fitness, Tennis, Golf, Cycling, Boxing, Water Sports or Outdoor, where they can find clothes, shoes and necessary accessories for the sport in one place.
How did it all start?
"Factcool is not in one place. Factcool seeks opportunities and acts immediately. "*
We dared to quote factcool.com website presentation as a strong motivation to find out an idea to spread existing marketing channels portfolio and implemented CSOMAG PLUSZ cooperation in.
After the summer campaign, we follow-up with Voucher code communication campaign in the Coupon Catalog – Autumn 2020. We believe that expectations will be met, and our cooperation will continue in all available markets.
We keep our fingers crossed!
---